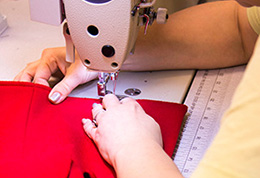 If you are looking for a UK Garment Manufacturers with cutting-edge knowledge and thirteen years' experience in the business, then you need look no further. We offer a one-stop-shop for all your garment manufacturing needs and are at the end of the line, phone or tube, with no waiting up until 2am to make that call and no language barrier!
Plus Samples Ltd is a London based studio catering for small or medium volume ready-to-wear garment production. The great thing for you, the customer, is over time we have learned what it takes to be the best and we are confident that our production process won't disappoint. From the minute you contact us we are here to listen to your requirements and find a solution that works for you, whether it's Cut, Make and Trim or garment development, we want you to be completely satisfied with our work.
If you have a vision and want to make sure that it becomes a reality you need a garment manufacturer who understands how to turn the concept into the finished article. Our pattern cutters are experienced, specialised and creative, which means they can interpret the vision and translate it onto a paper pattern allowing for all the technical aspects of stitching a garment.
Our pattern cutters work closely with our sample makers, keeping your business in-house ensuring a seamless process throughout. Sampling can be seen as expensive but as well as giving you, the designer, something to show to potential clients, it is an essential part of the creative process, identifying problems and hiccups during the early stages of the production process.
Naturally, for you the designer the most exciting part is when we move from the paper pattern to the development of the actual garment. This is where the dream starts to become a reality and we always get a thrill watching the reaction when a finished garment is shown for the first time!
Once you are 100% happy with the product and it meets all your expectations of fit, design and detail, we will then discuss with you your grading requirements and, unlike many companies, offer you a choice of digitally or manually graded patterns.
We work with a number of high-end men and womenswear designers and have had our garments showcased at London, Paris and New York fashion weeks. Our testimonials speak volumes, but it's our products that make us the UK garment manufacturer of choice.